License Levels
Mapwel software license is bound to GPS ID number. It is not bound to any particular computer, which means that user or users can use the same license on number of computers (at the same time) as long as they are able to share the registered GPS. Mapwel validates the license by checking the registered GPS after each re-installation or update.
License covers 32-bit and 64-bit builds of Mapwel. If you already own license (for 32-bit Mapwel), you do not need to buy another one for the new 64-bit build. The same password (activation code) works in the 32-bit and 64-bit build of Mapwel.
Mapwel software is available in two license levels
1. Basic license - for single GPS unit
Basic version allows user to upload map only into the GPS with ID that was used for registration. This version is intended for personal use. Basic version does not support routing, export to IMG file format and couple of other features that are available in Advanced version only. It is possible to upgrade from Basic to Advanced version anytime.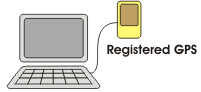 Registered GPS sends its ID to computer to allow Mapwel Basic validate the license.
Registered GPS receives maps from Mapwel Basic.
2. Advanced license- for unlimited number of GPS units
Advanced version requires one master GPS (the one used for registration) to check validity of password single-time after each Mapwel installation or re-installation. User may then attach any other compatible GPS and upload maps into this device. This version is intended for personnel or organizations that own number of Garmin GPS units or need export file feature. Advanced version allows to create routable maps and export maps into IMG, KML and MP format and supports batch conversion mode. You have to have the registered GPS by hand when you upgrade or re-install Mapwel software. Therefore, it is useful to have separate Advanced license for each office or work team

Registered GPS sends its ID to computer to allow Mapwel Advanced validate the license (only once, after installation or update).
Any compatible GPS can receive maps from Mapwel Advanced.
ID of Registered GPS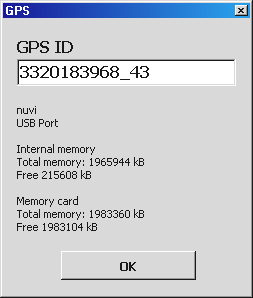 Both Basic and Advanced license is bound to 'registered' GPS ID. It is unique internal electronic ID of Garmin GPS unit.

This ID is required when registering (purchasing) Mapwel software. To get ID of your GPS, please use Mapwel demo version > main menu > GPS > Display GPS ID.

Please note the last two digits (43, in this case) that Mapwel adds to the ID number. It is a sum of previous digits and serves to check the ID.

Electronic ID is often mistaken with serial number printed on the device. However, these two numbers are not identical.
Switching License to a New GPS Unit
When you replace old GPS unit used for Mapwel registration with a new one, it is possible to switch registration (license) to the new unit. In such a case, please send us ID of the old unit, ID of the new unit and transaction number. The old registration code (password) is disabled and replaced by a new one.