Upload of Map into GPS
This function can be accessed via main menu > File > Upload Map to GPS.
User can upload one or several maps into the GPS unit. Mapwel uses unique GPS ID set by GPS manufacturer to check the registration before the map upload. Therefore, user is prompted to attach the GPS that was used for purchase of registration password.
If Mapwel software is in Advanced version, user can disconnect the registered GPS and attach any compatible Garmin GPS for map upload. Basic Mapwel version allows user to upload only to single GPS unit. Unregistered Mapwel software allows user to upload map to any compatible GPS, but map is truncated.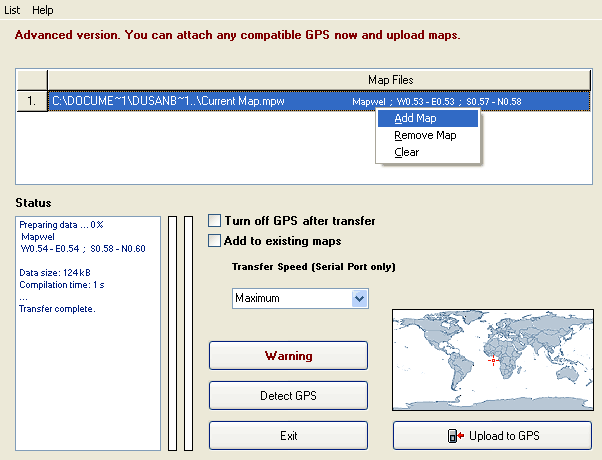 If you want to transfer several maps into the Garmin GPS at once, add maps to the map list. Use the main menu or pop-up menu (accessible with right mouse button click on the list) to manage the list items.
Geographic location of files transferred to GPS is plotted on the world map, for reference.
Current Map denotes map currently open in the Mapwel software. Add to existing maps option allows to add your map to maps already loaded in the GPS.
Important: if your GPS is connected to PC via serial port, please make certain that Serial Data Format in Setup / Interfaces in the GPS is set to "GARMIN".
The map should only be uploaded to the unit for which it is intended. If this map is uploaded to a GPS unit other than it is designed for, it will render the unit inoperative Do not operate the GPS unit during the transfer!
In case of problems with map uploading or displaying on the GPS, please check the Troubleshooting chapter.