OpenStreetMap (*.osm) file format support
OSM files are great free-of-charge source of detailed maps. They are available at http://www.openstreetmap.org.
"OpenStreetMap creates and provides free geographic data such as street maps to anyone who wants them. The project was started because most maps you think of as free actually have legal or technical restrictions on their use, holding back people from using them in creative, productive, or unexpected ways."
Mapwel software allows to upload OSM files into the Garmin GPS units with just a few clicks of mouse, preserving as much of visual similarity as possible. OSM files specification includes number of polygons, lines and icons. Most of them are not supported by Garmin basic set of objects. However, Mapwel contains library of special pre-defined styles to render OSM maps on Garmin GPS correctly.
OpenStreetMap files are often very large. If OSM file is too large for direct opening and processing in Mapwel, please use OSM Splitter tool in Mapwel.
Mapwel software imports OSM file so that roads are automatically converted to routable roads with turn-by-turn voice navigation.
There are two special road types: Roundabout and Ramp for which GPS generates a special navigation instructions. Mapwel identifies these road types automatically when importing map from OSM file. It is also possible to convert road to any of these types manually with use of the Properties window.
The steps needed to get OSM map into Garmin GPS are simple:
Download OSM file of respective area

Open OSM file in Mapwel. If you want to combine several OSM files, use Merge function for rest of the files.

Click 'Upload map to GPS' button in Mapwel to load map to the Garmin GPS unit.
Please note: above instructions refer to download of individual OSM files of small size. For automated download of large map sets please use main menu > Tools > Download Free Maps command.
To download OSM file from http://www.openstreetmap.org, browse area of interest and click on the Export tab (see below image). Then select 'OpenStreetMap XML Data' option from the left panel. Then click Export button. Store *.osm file into any folder of your computer.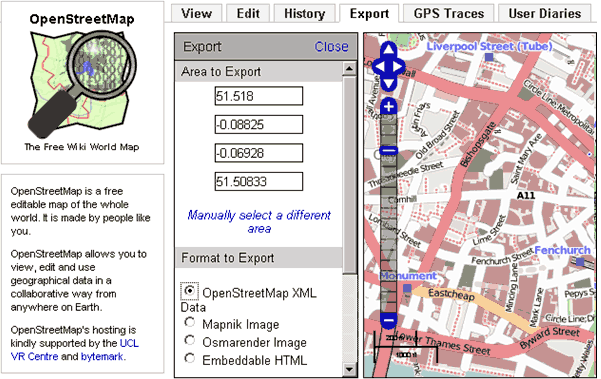 Open *.osm file in Mapwel software. You can edit it, combine with other vector maps, waypoints, tracks, etc. When finished, upload map to GPS with use of 'Upload map to GPS' button. Map in GPS looks like below examples. Please note: your GPS must support user-defined styles. All new Garmin GPS support them. If you have older Garmin GPS, you may need to upgrade its firmware to render map correctly.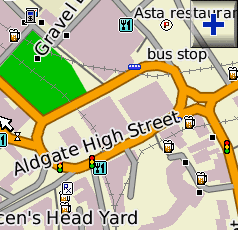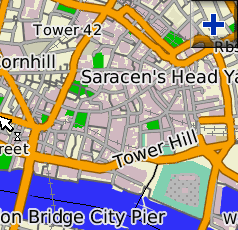 OpenStreetMap on Garmin GPS. Compiled and uploaded with Mapwel software. Some colors and icons are from Mapwel pre-defined styles.